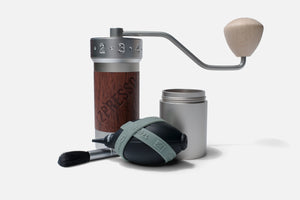 1Zpresso K-Pro Coffee Hand Grinder
Sale price Price $217.00 Regular price $235.00 Unit price / per
Tax included.
The 1Zpresso K-Pro is a high quality, top-end coffee hand grinder from Taiwan.
Its specialized "K" burr are capable enough to grind for all brewing styles, but perform exceptionally well when brewing filter coffee.
Why we love the K-Pro: The K-Pro makes changing grind sizes so easy.
A quick turn of the external top dial and a couple of clicks is all it takes to get from grinding from espresso to grinding for French press.
This is especially helpful when we are experimenting with different brewing methods, or when we're brewing several different coffees!
We also love the variety of helpful accessories that come with the K-Pro, which are essential for maintaining it in the long run.
Features: 
"K" Burr set: Unique heptagonal 48mm stainless steel burrs produce extremely consistent coffee grounds and performs well across all brewing methods.
External Adjustment Ring: 90 clicks (22 microns per click) of adjustment per round on the external ring (9 digits) allows the most convenient and simple grind size adjustment around. No more fussy adjustments!
Specifications:
Color: Light gray

Weight: 750g

Dimensions: 19.3 x 5.2 x 15 cm

Grounds Capacity: 30~35g

Materials: Wood (Handle), Polycarbonate (Lid), Silicone (Grip), Stainless Steel (Burrs), and Aluminum Alloy (Body)
What's In The Box:
1Zpresso K-Pro
Cleaning Brush
Cleaning Blower
Anti-slip Bands (x2)
Cylinder carrying Case
*This product comes with a 1-year limited warranty.